Fraser Mills By Beedie, Presales Condo in Coquitlam
2 King Edward Street, Coquitlam
Fraser Mills by Beedie – Located along the banks of the Fraser River in South Coquitlam, Fraser Mills will be the city's first and only waterfront community. When complete, this 96-acre neighbourhood will be home to a collection of residences, restaurants, shops, extensive green space, plazas, and an aquatic and community centre. As a new landmark in the region, Fraser Mills will shape the future of Coquitlam and become a legacy milestone community for Beedie.
Fraser Mills is designed as a complete and connected community, one that lets you choose how you want to live. Intentionally optimized to fully embrace life on the river's banks, this neighbourhood is filled with gathering places, green spaces and endless choices for work and play.
HISTORY OF FRASER MILLS
The history of Fraser Mills revolves around more than 115 years of families who built their lives around the thriving mills. What was once one of the largest sawmills in the world created a home and a hub for a wide diversity of people. The historic and cultural significance of the past municipality will be celebrated throughout the new neighbourhood.
Igniting a Revival
Fraser Mills will be entirely developed by Beedie, who has unified the skills of its full team to create an entirely new activated community built with the spirit of the working river it runs alongside. One of British Columbia's most respected companies, Beedie takes a holistic approach to building accessible and dynamic communities throughout Metro Vancouver with nearly 70 years of experience in residential, industrial and mixed-use projects. A family-owned business, Beedie was built on a foundation of intelligent design, thoughtful details, and craftsmanship. Now the largest private industrial land owner, developer and landlord in Metro Vancouver, Beedie stands true to these principles today.
As a well-established industry leader, Beedie has long been a committed and reliable contributor to British Columbia's real estate industry. Across the vertically integrated divisions of Industrial, Living, Capital and Construction, Beedie has the power to address all aspects of development including land development, design, construction, financing and property management.
Debut by Beedie, the first Residences at Fraser Mills are coming soon.
Developer: Beedie
Project Name: Fraser Mills
Address: 2 King Edward Street, Coquitlam
Construction Status: Presales Condo Coquitlam
Architects: Perkins & Will
Landscape Architecture: P+A
Type of Homes: Condominiums, Townhomes, Retail & Community Amenities
Estimated Completion: TBD
Number of homes; estimated 5,500
Estimated Strata Fee: TBD
Availability: Coming Soon
Website: https://frasermills.beedie.ca/
Contact us for information on Debut by Beedie, the first Residences at Fraser Mills. Request Floorplan, Deposit Structure, Pricing & other project info!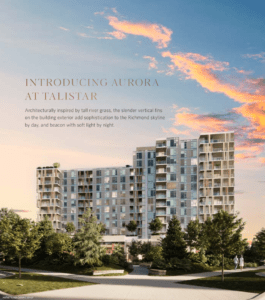 Aurora at Talistar by Polygon – Talistar is a striking master-planned community of six residential buildings in Richmond's city center, offering a new way of living in a delightfully connected setting. Aurora…
Read More