Debut by Beedie at Fraser Mills, Presales Condo in Coquitlam
2 King Edward Street, Coquitlam
DEBUT BY BEEDIE – COQUITLAM'S NEWEST HOME OWNERSHIP OPPORTUNITY AWAITS
Debut by Beedie standing as the pillar and at the entrance to this new community, the first tower at Fraser Mills unites lifestyle and natural beauty. Debut is an invitation to be the foundation of the new, energetic urban centre that is Fraser Mills. The first release of 1-, 2- & 3-bedroom condos & townhomes in Coquitlam's only waterfront community.
Positioned on the bank of the Fraser River, Fraser Mills is a landmark new chapter for the city of Coquitlam. A complete community providing all opportunities to live, work and explore, Fraser Mills breathes new life into more than 96 acres of waterfront space. Soon to be a bustling destination for the entire Fraser Region, the community welcomes every stage of life into vibrant homes, workplaces and public spaces in a new urban centre on the riverside.
Games Room, Secret Speakeasy and More in 26,000 sf of Amenities in Debut
Amenities in Debut at Fraser Mills will comprise over 26,000 sf of indoor and outdoor leisure and recreation space. From the lush outdoor greenspace to the interactive games room, secret speakeasy, co-working lounge and fitness centre, there is something for everyone in Debut. Enjoy endless hours of entertainment with friends and family.
Green Space in Debut by Beedie at Fraser Mills
In Debut's outdoor amenities, there will be an array of outdoor activities you can enjoy. Host a BBQ with family, challenge friends to a game of ping pong, or simply enjoy the fresh air and seating around the fireside lounge. The open lawn is a perfect place to play games such as catch, lawn bowling, and soccer. For those who cherish a leisurely stroll, a walking path traces the perimeter of this green space. In the green space will also be a children's play area, where they can enjoy time outdoors with friends. For Jewel Home residents, the green space experience is as effortless as stepping out of their terraces, which gracefully line the edges of this inviting communal area.
Fitness Centre in Debut by Beedie at Fraser Mills
Located on the 2nd level will be a state-of-the-art fitness centre with a weight room, cardio room, private pods for individual workouts, and a space for yoga and stretching. Residents of Debut will have exclusive access to the fitness centre, in addition to the 50,000 sf Aquatic & Community Centre and Sports Courts available to all in Fraser Mills.
Co-Working Lounge in Debut by Beedie at Fraser Mills
Debut will also house a co-working lounge- the perfect place for remote work or a focused study session. Private office pods will be available for added convenience. Additionally, the 1st floor will feature the lobby and parcel room, as well as a hotel-style guest suite with kitchenette and private terrace.
Developer: Beedie
Project Name: Debut by Beedie
Master Plan Community: Fraser Mills
Address: 2 King Edward Street, Coquitlam
Architects: NA
Engineering: NA
Interior Design:
Status: Presales Condo
Number of floors: 36
Number of Homes: 318
Material: Concrete
Amenities: BBQ Area, Co-Working Space, Fitness Centre, Open Green Space, 26,000SF of amenities.
Available in 1, 2, 3- Bedrooms
Deposit Structures: NA
Parking: NA
Storage Locker: Limited
Estimated Strata Fee: NA
Estimated Completion: NA
Availability: Coming Soon Fall 2023
Website: https://debut.frasermills.com/
Contact us for more information on the master planned community of Fraser Mills. Request Floorplan, Deposit Structure, Pricing & other project info!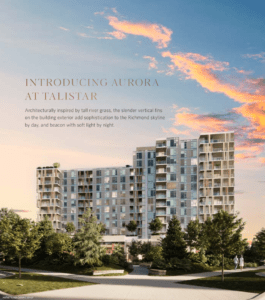 Aurora at Talistar by Polygon – Talistar is a striking master-planned community of six residential buildings in Richmond's city center, offering a new way of living in a delightfully connected setting. Aurora…
Read More