Office for Lease at Metrotown 318 4538 Kingsway
Office for Lease at Metrotown. 985SF of improved office space at The Crystal Mall in Burnaby. This unit has 4 private offices, one meeting room and open cubical spaces. Common bathroom on each level. Suitable for education, financial, law, accounting firm. Ample visitor parking. High traffic shopping center & close to Skytrain & Metrotown. Strata Fee $800/mth. Property Tax: $8680.87. Triple Net Lease. Vacant, move in ready!
Building Name: The Crystal Mall Office Tower
Rentable Space: 985 SQ.FT
Basic Rent: $25psf
Additional Rent: $18.56psf
Intended Use: Office, Showroom, Educational
Zoning: M5
Condition: Improved
Location: Prime location close to parking entrances, elevator.
Visitor Parking: Free Underground Parking
Location: Metrotown, Burnaby
About Crystal Mall
The Crystal Mall was established in year 2000 as part of a huge real estate complex in Burnaby at the time. The complex features The Crystal Mall, an office building, residential buidings and Hilton Hotel.
Central location on the corner of Kingsway and Willingdon Ave, conveniently accessible from any directions. The seven Roman columns mark the front entrance of the biggest Chinese-Asian shopping center in Burnaby.
The Crystal Mall has a very unique circular design with shops all around. In the open central court stands a status of Arora-the ancient Greek Goddess of Dawn, gliding like a breeze over the water of a peaceful pond. Crystal Lane is the "street" that run through the central court of the mall on ground level, allowing entrance from north and south.
We have over 200 store providing services and retail products of every kind. The assortment of dentists, optometrists, Chinese medicine-acupuncturists here also in addition to a host of consumer retail goods and services make us a great resource for the whole of Greater Vancouver.
There is always something going on in The Crystal Mall. Our events and activities are famous around town. We are currently the only shopping center in The Greater Vancouver area that organize and host beauty contest, our very own Crystal Covergirl Contest. This is a summer-long activities in which all candidates learn a great deal through various trainings and activities, and find lots of fun. On the other hand, audience and visitors to the mall find lots of fun.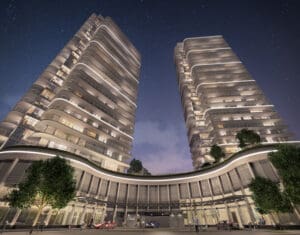 Status: Available For rent is 1 bed 1 bath + den apartment at Burnaby Brentwood Etoile. Air Condition is included. 5 mins walk to Holdom Skytrain station. 10 mins drive to SFU, BCIT. Close to The Amazing Brentwood shopping center and all the restaurants. Two boutique towers redefine modern luxury living with spacious, elegant residences…
Read More