WordsWorth By Polygon, UBC Vancouver
6138 Birney Avenue, Vancouver, BC
Come Forth Into the Light of Things
Named after the famous Romantic era poet and Cambridge University laureate, Wordsworth by Polygon is ideally situated in the heart of the University of British Columbia's Wesbrook Village – a friendly community that offers a milieu of higher learning. This is one of the city's best places to be, with renowned schools for all ages and recreational amenities for the whole family all just a stone's throw away.
Let Nature Be Your Teacher
Wordsworth borders Mundell Park, one of several beautiful parks at Wesbrook Village that are named after UBC Nobel scholars. Here, tranquil water features, green spaces, playgrounds and gathering plazas set the scene for nature-inspired charm. Designed by acclaimed architect Walter Francl, Wordsworth consists of a 16-storey high-rise and a collection of concrete cityhomes. This inspiring community is an invitation to experience modern living in a soothing setting, with many residences offering views of the Salish Sea, the North Shore Mountains or surrounding parks
Just a twenty-minute drive from downtown Vancouver or Richmond, Wesbrook Village has earned a reputation as a vibrant addition to the established Point Grey neighbourhood. Daily conveniences, cafes and restaurants are readily accessible day and night. Tree-lined streets and manicured greenways weave throughout the community, forming a stunning backdrop for leisurely strolls or bicycle rides. To connect with nature, Pacific Spirit Regional Park is right next door with over 2,000 acres of mighty evergreen trees and 73 kilometres of walking trails.
Look Deep Into Nature
The Wesbrook Community Centre is a central hub where residents frequent for a workout or a game of basketball. Steps away, University Hill Secondary School, one of the top-ranking public schools in the province, offers a great place for teenagers to learn and grow. Other excellent secondary and elementary school options are also available nearby.
Events and celebrations are held all year round at Wesbrook Village and the UBC campus, while an array of sophisticated cultural and recreational venues such as the Chan Centre for Performing Arts, Museum of Anthropology and UBC Botanical Gardens takes weekend activities to a whole new level.
Developer: Polygon Homes
Project Name: WordsWorth
Address: 6138 Birney Avenue, Vancouver, BC
Architects: Francl Architecture
Estimated Completion: TBA
Number of floors: 16
Number of Homes: 231
Material: Concrete
Contact us on the form below for Floorplan, Deposit Structure, Pricing & other project info!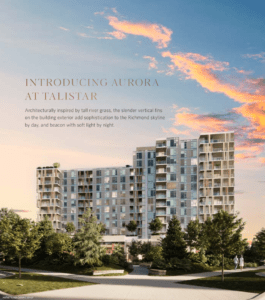 Aurora at Talistar by Polygon – Talistar is a striking master-planned community of six residential buildings in Richmond's city center, offering a new way of living in a delightfully connected setting. Aurora…
Read More