West Wind at Lelem by Polygon
2500 Acadia Rd, Vancouver BC
Natural Beauty and Urban Walkability
Bordered by a brand new 3-acre nature park with majestic evergreen trees, West Wind by Polygon is a collection of concrete apartment residences in the heart of a masterplanned community known as lelem – a Musqueam word for "home". Stroll along the dedicated trails, grab a coffee in the village plaza, or walk to the esteemed University of British Columbia in just minutes – this is the beauty and convenience of West Wind living.

A STORIED SETTING WITH CAPTIVATING VIEWS
This is a place shaped by nature. Where ancient towering trees reach towards the sky, and emerald forests extend as far as the eye can see. Where waves lap rhythmically upon the shore. Where nature grows more majestic with each passing year. Where a cleansing breeze breathes fresh life into every moment of every day. This is West Wind. And this is home.
AN ATMOSPHERE OF LIFELONG LEARNING

From its location on the UBC Vancouver campus, West Wind is nestled in an environment brimming with exceptional educational opportunities. UBC is one of the most respected public universities in the world; its campus is home to facilities and spaces that support groundbreaking research and engaging opportunities to expand the mind.

THAT COMPLEMENTS THE BREATHTAKING SURROUNDINGS
West Wind is designed to highlight the stunning natural environment. With architecture by Rositch Hemphill Architects, the 18-storey concrete collection features clean lines, contemporary facades, and art panels designed by local Musqueam artist Gracielene Ulu. Inside the homes, spacious windows
frame invigorating views of towering evergreens, Burrard Inlet, downtown Vancouver and beyond.

Developer: Polygon Homes
Project Name: West Wind by Lelem
Architecture: Rositch Hemphill Architects
18-storeyed
Concrete High-Rise
Enjoy easy access to a beautiful greenway network and multitude of exceptional amenities at UBC, including the Chan Centre for the Performing Arts, the new UBC Aquatic Centre, the Museum of Anthropology, the Beaty Biodiversity Museum and more.
Community exteriors feature art panels designed by local Musqueam artist Gracielene Ulu
Socialize with friends in one of two residents' lounges
Enjoy tranquil reading in the study room
EV-ready parking stalls included throughout the building for connection to vehicle chargers
Heat-Pump Cooling System
A dog wash station and bike repair workshop conveniently located in the parkade
A concierge stationed in the lobby takes care of special requests
One Bedroom Approx. 540-592 Sq.Ft.
One Bedroom Corner Approx. 565-582 Sq.Ft.
Two Bedroom Approx. 864-869 Sq.Ft.
Sales start 2022
Contact us on the form below for Early VIP Access, Floorplan, Deposit Structure, Pricing & detailed info!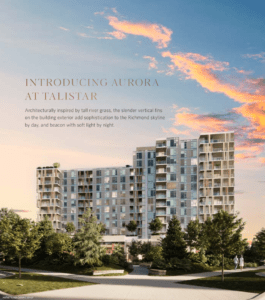 Aurora at Talistar by Polygon – Talistar is a striking master-planned community of six residential buildings in Richmond's city center, offering a new way of living in a delightfully connected setting. Aurora…
Read More