Solhouse 6035 By Bosa, Presales Condo in Metrotown
6035 Wilson Avenue Burnaby, BC
Solhouse 6035 By Bosa inspires a life well-lived; a place permeated by the calm of Burnaby's Central Park and enriched by the lively energy of Metrotown.
Following the success of Central Park House, Bosa Properties brings Solhouse 6035 to Metrotown. Designed by renowned architecture firm Gensler, this residential tower will stand 50-storeys high to offer views of Burnaby's Central Park, Downtown Vancouver, and the North Shore Mountains; connecting the natural world with the built experience.
Invite the outside, in. Solhouse draws the outdoors in with residences designed for outside-in living. Offering a variety of floorplans ranging from studios, one-, two-, and three-bedroom homes to the Estate and Penthouse collections.
The self-guided wellness circuit is designed to enhance health and well-being. Indulge in relaxation and recovery in the heated and cold plunge pools, experience shower, steam room, and sauna. Embrace the quiet ambience of nature in the adjacent outdoor relaxation area or step into a new space of tranquility in the indoor relaxation lounge.
Experience the outdoors, from above. On the sixth floor of Solhouse, a landscaped terrace provides the best of outdoor living with spaces to relax, recharge, and reconnect.
Connect, work and entertain. Alongside a co-working space with hot desks and individual working pods, the lobby also houses a social lounge for relaxing and mingling and a private dining area for gatherings and entertaining.
Harmonize with nature. The residences have been designed to offer respite and retreat with generous balconies that reach out into the natural landscape. Every interior element has been thoughtfully considered: materials inspired by nature, high-end finishes, and premium appliances come together to create harmonious spaces that inspire a sense of serenity.
Extend your space. Retractable glass panels transform balconies into versatile living spaces that can be enjoyed all year round. These panels allow the balconies to be opened up or closed off from the external elements—all without obstructing the views. Personalize your balcony as a space to relax, exercise and entertain.
Feel nature's influence. Interiors are crafted to harmonize with the outside world. Materials inspired by nature capture the feeling of wood and stone, bringing the outside, in.
Developer: BOSA Properties
Project Name: Solhouse 6035
Address: 6035 Wilson Avenue Burnaby, BC
Architects: Gensler
Engineering: Arcadis
Interior Design: CHIL Interior Design
Status: Presales Condo
Number of floors: 50
Number of Homes: 411
Number of Rental: 68
Material: Concrete
Market Condos + Rental
Feature: Retractable glass panels in selected balconies
Amenities: Plunge pools, relaxation lounge, landscaped terrace, co-working space
Studio starting Mid-$600s
1 Bed starting Low $700s
Jr 2 Bed starting Low-$900s
2 Bed starting Mid-$1.1M
3 Bed starting High-$1.3M
Deposit Structures: 25% (5% on writing, 5% 4moths after 1st deposit, 5% upon Amendment DS, 5% 12months after 3rd deposit)
Parking: All home include 1 parking stall, excluding studio homes
Storage Locker: Limited
Estimated Strata Fee: NA
Available Home: Studio, 1 Bed, 2 Bed, 3 Bed
Estimated Completion: Late 2028
Availability: Coming Soon Fall 2023
Website: https://solhouse.bosaproperties.com/
Contact us on the form below for Floorplan, Deposit Structure, Pricing & other project info!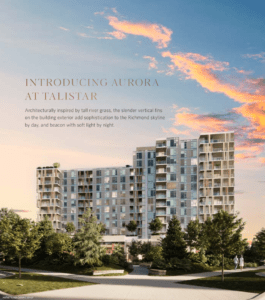 Aurora at Talistar by Polygon – Talistar is a striking master-planned community of six residential buildings in Richmond's city center, offering a new way of living in a delightfully connected setting. Aurora…
Read More