Riley Park by Mosaic, Coquitlam
1340 Olmsted St, Coquitlam, BC
Riley Park is a new townhouse project by Mosaic Homes currently under construction at Riley Street & Burke Village Promenade, Coquitlam. The development is scheduled for completion in 2023. Available units range from 1321 to 2115 square feet.
With nearly 2,000 families living in a Mosaic Home in the Tri-Cities, we can't wait to be back on Burke Mountain. We're excited to introduce our 3 & 4 bedroom family friendly townhomes with fresh home types, a new interior look & feel and 3.5 acres of Riley Park as our backyard.
For Riley Park's interiors, we are excited to introduce a new take on classic design, comfortably familiar but designed for today. Our homes have a warm colour palette with a soft white, oyster grey or rich navy. The details that complete the look are fixtures and pulls in champagne bronze.
Developer: Mosaic Homes
Project Name: Riley Park
Address: 1340 Olmsted St, Coquitlam
3 bed – 4 bed Townhomes
Dakota D, D1, D2 Plan 3 Bedroom 1321- 1363 sqft
Edison E, E1, E2 Plan 4 Bedroom+ Den 2034-2115sqft
Henley H, H1, H2, H3, H4 Plan 3 Bedroom 1497-1561 sqft
Estimated completion dates are end of 2023 to early 2024.
Inside the Home
• Every home at Riley Park has 10-foot ceilings on the main level of living, meaning more volume, more natural light and more storage
• Contemporary baseboard and doorway trims blend a modern form with classic proportions
• Powder room off the main floor on all homes
• Oversized 7-foot windows increase natural light and extend space in living and dining spaces
• Recessed LED pot lights in carefully selected locations
• Cut pile carpeting throughout bedrooms, upstairs hallway and main stairways
• Reinforced television wall with cord-concealing conduit for wall-mounted big screen TVs
• Plenty of storage in every home by way of pantries, closets or storage rooms
• Garages equipped with electric vehicle charging capabilities
The Riley Park Community Clubhouse
• A private 1,000 square foot Riley Park Community Clubhouse
exclusive for homeowners
• Fitness studio and multipurpose flex space full of natural light
for birthday parties, family reunions or yoga practice
• Outdoor space that includes picnic tables, children's play area
and outdoor fitness zone
Contact us on the form below for Early VIP Access, Floorplan, Deposit Structure, Pricing & detailed info!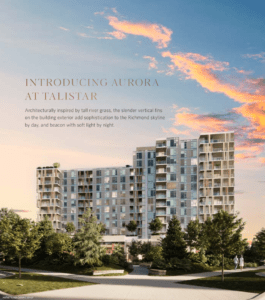 Aurora at Talistar by Polygon – Talistar is a striking master-planned community of six residential buildings in Richmond's city center, offering a new way of living in a delightfully connected setting. Aurora…
Read More