Reign By Wesgroup, Presales Condo in Metrotown
6280 Willingdon Avenue, Burnaby, BC
Featuring two towers including both residences and rental homes, Reign is Wesgroup's debut to Metrotown. Residents will enjoy the convenient lifestyle by being walking distance from established amenities such as Metrotown Mall, Crystal Mall, Central Park and the SkyTrain Station. Reign offers full floor amenities including an outdoor lounge and hot tub, a half basketball court, co-work space, guest suites and more. With Metrotown set to become the new downtown of Burnaby, Reign will be in the center of a growing cultural and entertainment hub.
Approachably elegant and distinctive by design, Reign is made for those who reach for the sky. With an avant-garde approach to architecture and design, Reign distinguishes itself from the conventional stylings of neighbouring Metrotown high-rises.
Developer: Wesgroup Properties
Project Name: Reign At Metrotown
Address: 6280 Willingdon Avenue, Burnaby, BC
Construction Status: Presales Condo Metrotown
Type of Homes: Studio, 1, 2 & 3 Bedroom Homes
Estimated Completion: TBD
Number of homes; estimated 617
Stories: 38
Towers: 2
Estimated Strata Fee: TBD
Availability: Coming Soon 2023
Website: https://wesgroup.ca/reign/
Contact us on the form below for Floorplan, Deposit Structure, Pricing & other project info!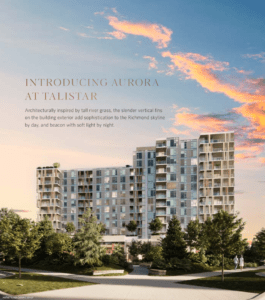 Aurora at Talistar by Polygon – Talistar is a striking master-planned community of six residential buildings in Richmond's city center, offering a new way of living in a delightfully connected setting. Aurora…
Read More