PIANO by Concord Pacific, Surrey
13468 105A Avenue, Surrey, BC
Live At The Heart of Surrey City Centre
Where community, culture and wellness exist in perfect harmony. Located in the heart of Surrey next to Surrey City Centre, Simon Fraser University, Central City Shopping Centre, and much more! The Piano is just minutes' walk to SkyTrain stations, local shops and services, and neighbouring parks – offering residents a balanced, modern living experience.
No matter your tempo, find your harmony at The Piano.
A Stunning Architecture
With accentuating curved lines, the interplay of two iconic sculptural forms rises into the skyline, greeting people as they enter the heart of Surrey's City Centre. Responding to the natural surroundings, the descending terraces provides luscious greenery to achieve optimal views in every direction.
Amenities To Fit Your Tempo
Be greeted by a concierge as you enter the Grand Lobby that is directly connected to the Piano Lounge, a perfect space to relax and enjoy some calming piano tunes. THE PIANO features a multitude of indoor and outdoor amenities including shared workspace, music room, kid's play room, entertainment lounge, outdoor water garden and more!
Integrated Smart Living For A Future-Proof Design
The Piano features Concord's signature design – Concord BioSpace, a multi-layered system that creates cleaner and safer indoor spaces through improved airflow and contact management in high-traffic areas. Access to major entry points and high-traffic shared areas including elevators can be controlled through your mobile phone while amenity spaces will be serviced with high-speed Wi-Fi.
The building will also be equipped with smart thermostats for improved energy efficiency, and will include dedicated parking spots and charging stations for electric vehicles.
Concord's Water Damage Protection System
Designed for your security and peace of mind, The Piano utilizes Concord's signature water damage protection system to head off potential leaks and prevent costly damage. This multi-step system uses smart flow detection technology, remote shut off capabilities, multi-layered elevator protection and preventative design to effectively reduce the occurrence of water incidents and mitigate damage.
Developer: Concord Pacific
Project Name: PIANO
Architect: IBI Group
Interior Design: LIV Design Studio
Community: Surrey Central
Skytrain Station: Surrey Central Station
Estimated Completion is Summer 2025
Estimated Strata Fee: NA
Deposit structure: NA
Website: https://www.concordpiano.ca/
Contact us on the form below for Early VIP Access, Floorplan, Deposit Structure, Pricing & detailed info!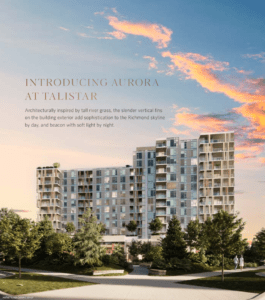 Aurora at Talistar by Polygon – Talistar is a striking master-planned community of six residential buildings in Richmond's city center, offering a new way of living in a delightfully connected setting. Aurora…
Read More