Perla by Polygon, 5900 Olive Ave, Burnaby
Parkside Living in Metrotown
There are two sides to the vibrant neighbourhood of Metrotown, and Perla has the best of both worlds. Take the elevator down and head West; within a few minutes you will be surrounded by the tall Douglas Fir and Cedar trees in Central Park – an 86-hectare urban oasis with quiet ponds, beautiful gardens, tennis courts and outdoor swimming pools. If you head East, you will stroll through beautiful tree-lined streets that take you to a diverse restaurant scene. Steaming lattes and alluring pastries are steps away, followed by the province's biggest shopping complex and the convenient SkyTrain network.
Enjoy The World in the Comforts of Your Home
Designed by dys Architecture, the curved lines on the Perla tower evoke a sense of excitement and remind us of a velvet stage curtain in a theatre. Follow the curves to the ground level and you will find a long list of spa-inspired amenities including a serene plunge pool and a fully equipped fitness studio. Go up to the top of the tower and the Perla Lounge awaits with one whole floor of meticulously crafted indoor and outdoor entertainment spaces. Bring your friends to the outdoor deck to enjoy the panoramic views, host a party in the fireside social room, or celebrate special occasions in the private dining hall.
Developer: Polygon Homes
Project Name: Perla
Address: 5900 Olive Ave, Burnaby
Google Map: https://goo.gl/maps/ufRSLFDsqqLqQsyN9
Architects: dys Architecture
Estimated Completion: TBA
Number of floors: TBA
Number of Homes: TBA
Material: Concrete
Keep comfortably cool in the warmer months with a heat-pump cooling system
Sleek engineered stone countertops are complemented by a full-height engineered stone backsplash and modern kitchen cabinetry
Enjoy a sleek appliance package that's beautifully integrated into kitchen cabinetry
Thoughtfully designed and lit built-in closets house your favourite outfits and accessories
Enjoy the convenience of a building concierge and an electronic parcel system
Ground level amenities include a WeWork-style lounge, a spin studio, a fitness centre, an outdoor jacuzzi and more to help you maintain work-life balance
The Perla Lounge is an ideal extension of your living room with a private dining hall and catering kitchen, a billiards room with a large-screen TV, a fireside social room, and outdoor BBQ and dining areas
Contact us on the form below for Floorplan, Deposit Structure, Pricing & other project info!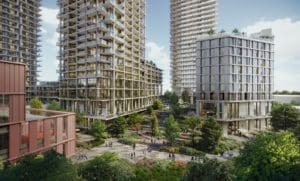 A World of Experience Comes to Brentwood With a 345-year history of creating thriving urban communities, we're excited to bring our global experience to Burnaby, and share our vision for the city's…
Read More