PARKWAY (PKWY) BY BLUESKY PROPERTIES
10460 City Parkway, Surrey, BC
On the neighbourhood's northeast corner, PARKWAY 1 – ASPECT is the first release. With 18 different floorplans, including studios, 1 bedrooms, 1 bedrooms + guest and 2 bedrooms – 2 baths, PARKWAY has a home for everyone.
FOR NOW AND FOR THE FUTURE
All purpose and nothing superfluous, PARKWAY homes are built to be flexible, to meet how you live now and adapt as life changes. Every design detail is chosen for is longevity, expandability and beautiful materiality.
WORK AND PLAY AT THE PARKWAY HOUSE
In step with your day, PARKWAY House is built to effortlessly shift from work to play with no downtime. Spanning two floors, with indoor and outdoor spaces, the modern community centre includes diverse and flexible spaces.
WELCOME TO THE RESIDENTS CLUB
A private rooftop retreat for PARKWAY 1 – ASPECT, the Residents Club is a true extension of your home. Its flexible spaces are ideal for hosting close friends while quiet places are designed just for you.
COMMUNITY PLAN
Designed to be the city's gathering point, PARKWAY heralds in a new era for Downtown Surrey. Activated all hours, the community is an open, energizing place for all.
SHAPE YOUR OWN EXPERIENCE
The community spaces at PARKWAY are made to be open and flexible. Dynamic uses and diversity of features are built-in to every bustling outdoor lounge and laidback green space.
MEET AND EAT AT THE PAVILION
PARKWAY's commercial hub, The Pavilion brings in the best of Surrey with curated eateries for the locals. Step out your front door for pour-overs at a bustling café, or let cold, post-work pints with friends on a sunny restaurant patio roll into dinner.
ALL-DAY ACTIVITY AT PARKWAY HOUSE
The well-lived urban life demands more than your own home's footprint. Providing space to work, play and connect, PARKWAY has its own resident community centre. The flexible indoor and outdoor spaces are designed for all hours and all activities.
Developer: BlueSky Properties
Project Name: Parkway (PKWY)
Available Towers: 3
Estimated Completion: Summer 2026
Estimated Strata Fee: $0.60/SF – $0.63/SF
Studio 396 SF
One Bedroom 510-511 SF
Two Bedroom 705-756 SF
Air Conditioning
Upgrades include outdoor heaters & smart home automations
Sleek, stainless steel Bosch appliances
Most Kitchen includes BOSAspace ExtenTABLE™ dining table
Rooftop Club exclusive for PARKWAY 1- ASPECT
Ground Level Co-working lounge
Fitness Studio for Yoga & stretching
Fully equipped gym
Game lounge with pool table
Wellness Spa with cold plunge pool, steam room & sauna
Indoor multi-use sports court
Concierge Service
Contact us on the form below for Early VIP Access, Floorplan, Deposit Structure, Pricing & detailed info!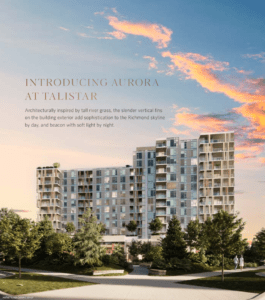 Aurora at Talistar by Polygon – Talistar is a striking master-planned community of six residential buildings in Richmond's city center, offering a new way of living in a delightfully connected setting. Aurora…
Read More