OASIS East Tower at Concord Brentwood
4863 Dawson Street, Burnaby, BC
An Escape Within The City
Oasis at Concord Brentwood is the second phase of the exciting new master-planned community of Concord Brentwood. Nestled in the heart of vibrant Brentwood lies a hidden Oasis defined by its resort-inspired amenities while maintaining a close proximity to desirable shops, parks, transit & more. Mere steps away from Brentwood Town Centre and multiple transit options, Oasis at Concord Brentwood blends urban convenience with the tranquillity of paradise.
Paradise Designed For You
In the midst of bustling Brentwood, be transported to your very own unique sunbathing beach inspired by the most revered, secluded cenotes around the world. Be immersed in our resort-inspired amenities and uplifting atmosphere where residents can experience relaxed ease and an island getaway without having to leave home.
Developer: Concord Pacific
Project Name: OASIS East Tower
Available Towers: East Tower
One Bed – 560-581sqft
Two Beds – 759-901sqft
Two Beds + Den – 836-871sqft
Three Beds – 1053-1207sqft
Estimated Completion is Early 2027
Website: https://concordbrentwood.com/oasis
All units have expanded indoor/outdoor living experience with spacious balconies.
45 ARCHITECTURAL STOREY
Club Oasis includes Indoor Pools, Sun Bathing Beach, Gymnasium, Squash Court, Bowling alley & more.
Seamless Indoor Outdoor All Season Living
RETRACTABLE GLASS SCREEN SYSTEM
100% Residential EV Parking
Smart Thermostat
Touchless Tech
Steam Closet (Optional)
Contact us on the form below for Early VIP Access, Floorplan, Deposit Structure, Pricing & detailed info!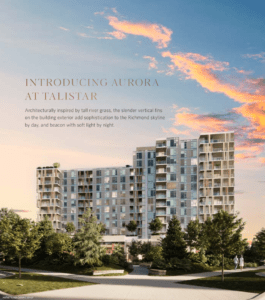 Aurora at Talistar by Polygon – Talistar is a striking master-planned community of six residential buildings in Richmond's city center, offering a new way of living in a delightfully connected setting. Aurora…
Read More