Minoru Square by Thind, Richmond
5740 Minoru Boulevard, Richmond, BC
IN A BUSY CITY, find your space WITHIN MINORU SQUARE
Minoru Square is the ultimate expression of holistic living with 1, 2 and 3 bedroom homes available. Situated in Richmond on the Pacific Coast, its enlightened framework allows you to live in the now. Enjoy a remarkable collection of in-house spaces including a Serenity Room, Tea Room, Cocktail Lounge, Co-Working space and more. Live in close proximity to worldclass amenities and a verdant landscape. Pause to watch the Northern views of the blue mountains while both Richmond and Vancouver flicker below. When you come home to Minoru Square, you come home to yourself.
What brings Minoru Square to the frontier of wellness is its ability to connect you with nature and ultramodern amenities. Visit Minoru Park, known as the green heart of Richmond's city center. Stroll the River Road Walkway alongside the Fraser River. Visit the arboretum at Garden City Community Park, home to 100 tree species from the Pacific Rim. Lansdowne Mall, just steps away, holds a vibrant future. With renovations, it will become Richmond's revitalized core. Browse the aisles of T&T Supermarket. Break a sweat at the worldclass Richmond Olympic Oval or swim laps at the Minoru Centre for Active Living. Order cuisine from an assortment of diverse restaurants.
Developer: Thind Propertities
Project Name: Minoru Square
Location: Richmond Downtown
Available Towers: 3
Skytrain Station: Lansdown Station
Studio – 410-646SQFT – starting at $534,900
One Bed – 494-502sqft – starting at $561,900
One Bed + Den – 511-764sqft – starting $566,900
Two Beds – 675-861sqft – starting $778,900s
Two Bed+ Den – 725-784sqft – starting $839,900s
Estimated Completion is Summer 2025
Estimated Strata Fee $0.69/SF
Deposit structure: 20% (10%, 5%, 5%)
1 Locker included
Some unit excluding parking
Website: https://thind.ca/minorusquare/
Contact us on the form below for Early VIP Access, Floorplan, Deposit Structure, Pricing & detailed info!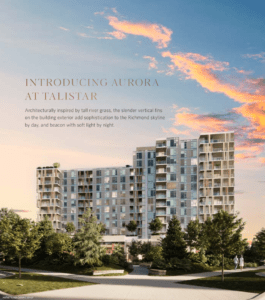 Aurora at Talistar by Polygon – Talistar is a striking master-planned community of six residential buildings in Richmond's city center, offering a new way of living in a delightfully connected setting. Aurora…
Read More