Lansdowne Centre By Bosa & Vanprop (Phase 1)
5300 No. 3 Road Richmond, BC
Bosa Properties and Vanprop Investments Ltd. have partnered to revitalize a piece of Richmond's history, phase one at Lansdowne Centre. This mixed-use, multi-phase community will be a vibrant new city centre that includes retail, residential, office, parks, and civic plazas – creating a destination that is unique and authentic to Richmond.
A vibrant, mixed-use community, with homes, shopping, commercial space, parks and amenities, Lansdowne By Bosa will be the hub of Richmond's City Centre. A prosperous retail neighbourhood, an exciting and convenient meeting place, and a safe, green and comfortable place to live and play. Sustainable, resilient, livable and convenient: the new Lansdowne will be Richmond's go-to place to live, shop, work and play for generations to come. 
Lansdowne Centre By Bosa Presales Condo is guided by the defining principles of building Community, Economic Vitality, Livability, Connectivity and Sustainability, all in a way that leverages the best Design principles and introduces unique and transformative Architecture. In short – and in specific expression of the culminating point in the City Centre Area Plan (CCAP) Vision – this plan seeks to revitalize a vital piece of Richmond's history to build an enduring legacy. Click on the icons below to learn more.
The Civic Plaza, at the doorstep of the Lansdowne SkyTrain Station, will become Richmond's town square. This gateway to the Lansdowne Centre community will be a gathering and celebration space for the whole city. Here transit will meet a vibrant commercial core. An opportunity to create a vibrant new town square and connection point in the heart of Richmond.
Contact us on the form below for Floorplan, Deposit Structure, Pricing & other project info!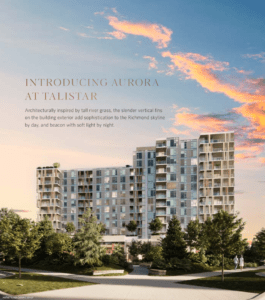 Aurora at Talistar by Polygon – Talistar is a striking master-planned community of six residential buildings in Richmond's city center, offering a new way of living in a delightfully connected setting. Aurora…
Read More