Greenhouse By Concord, Presales Condo in Metrotown
5895 Barker Avenue Burnaby BC
Introducing Greenhouse, the latest masterpiece by Canada's largest community-builder, Concord Pacific. Conceptualized as a modern-day facsimile of the French orangeries of old, this one-of-a-kind project was created in harmony with nature down to the last detail. Featuring a selection of modern amenities inspired by the regal aesthetic of a bygone era, Greenhouse invites you to experience the splendour of nature with a crystal-clear pool and more within the comfort of your home.
Indulge in the Endless Elegance of Park Views at the Heart of the City
With Central Park just a 5-minute stroll away, a further 220 acres of lush greenery awaits you in your own backyard. Nestled at the heart of Burnaby, this vibrant community is just steps from Patterson Skytrain Station, Bob Prittie Library, and the province's largest shopping mall.
From Tranquility to City Rhythm
Step into a world of enchanting ambiance at Greenhouse and immerse yourself in the captivating beauty of Central Park, just a stone's throw away. With 220 acres of lush greenery as your backyard, tranquility is at your doorstep. For a change of pace, the vibrant heart of Burnaby's city centre awaits, offering province's largest shopping mall, the Bob Prittie Library, and easy access to the Patterson Skytrain station. Embrace the perfect blend of natural serenity and urban excitement at Greenhouse.
A Timeless Masterpiece of Natural Harmony and Elegance
Inspired by the refinement of classic conservatories and the grandeur of beaux-arts architecture, Greenhouse is a living masterpiece that elegantly captures the opulence of royal gardens. The exterior facade boasts sinuous curves and flowing waves, harmoniously reflecting the beauty of nature. Every architectural element pays homage to its outdoor surroundings, embracing the lush greenery of Central Park and the serene shores of Deer Lake. Greenhouse stands as a testament to timeless sophistication and natural harmony.
Where Modern Amenities Meets European Regal Elegance
Greenhouse offers a splendid blend of modern amenities with a touch of European regal elegance. Unwind in the serene Crystalline Pool, relax at the Fountain Pavilion as you listen to the gentle flow of water, set amid lush foliage and captivating floral aromas, host a tea party in the elegant dining hall with family and friends. Whether seeking leisure or relaxation, Greenhouse is the perfect destination to fulfill your desires.
Convertible Living Space for All Season Enjoyment
Greenhouse is designed from top-to-bottom for seamless indoor-outdoor living year-round. Expansive suites naturally transition to a convertible solarium that features retractable glass panels and a balcony heater to allow for all-season enjoyment. Effortlessly entertain guests no matter the weather with purposefully designed features and airy living spaces equally suited for warm gatherings or a quiet night in.
Developer: Concord Pacific
Project Name: CORNCORD GREENHOUSE
Address: 5895 Barker Avenue Burnaby BC
Construction Status: Presales Condo Metrotown
Type of Homes: Studio, 1, 2 & 3 Bedroom Homes
Estimated Completion: TBD
Number of homes; estimated 314
Designed by IBI Group
Stories: 42
52 rental homes within a separate six-storey building.
14,000 sq. ft. of indoor amenity space
Featuring retractable glass screen system
Tiled Flooring in Solarium
Radiant ceiling heating
9ft ceiling height
Vista Collection (Level 4-37) 1, 2 & 3 bedroom homes starting from low 700,000's
Panorama Collection (Level 38-42) 2 & 3 bedroom homes starting from high $1.6M
Amenities: Fountain Pavilion, Crystalline Pool, Steam Room, Sauna Room, Tea Atelier, Karaoke Room, Yoga Room, Ping Pong Room, Pet Spa, Fitness Centre
Estimated Strata Fee: TBD
Availability: Fall 2023 Coming Soon
Contact us on the form below for Floorplan, Deposit Structure, Pricing & other project info!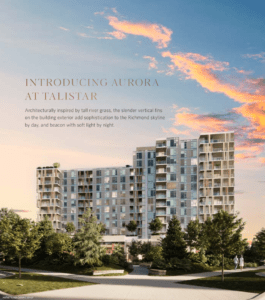 Aurora at Talistar by Polygon – Talistar is a striking master-planned community of six residential buildings in Richmond's city center, offering a new way of living in a delightfully connected setting. Aurora…
Read More