Curv By Brivia Group, Vancouver
1083 Nelson Street, Vancouver, BC
Introducing the world's tallest passive house and Vancouver's tallest residential high-rise.
Reflecting the energetic forces of its surrounding Pacific Northwest environment, CURV will be the tallest passive house structure in the world. Located in the heart of Vancouver, and at the highest point of downtown, this is a revolution in sustainable urban living.
Beyond Inspired
Curv is brilliantly designed by world-renowned architect Tom Wright, with interior design by Andres Escobar of Lemay & Escobar, and the expert management of Kheng Ly from Canada's Brivia Group. With the extraordinary ability to ultra-filter air, soften sound and recover some of its own energy, Curv emanates the blissful feeling of living at the height of now.
Developer: Brivia Group & Henson Developments
Project Name: Curv
Address: 1083 Nelson Street, Vancouver, BC
Google Map: https://goo.gl/maps/8Q4js5ZEdLdgEikZ6
Architecture: Tom Wright & WKK Architects
Interior Design: Andres Escobar
Total Unit: 501
Sales & Marketing: BakerWest
Website: https://thecurv.ca/
Contact us on the form below for Floorplan, Deposit Structure, Pricing & other project info!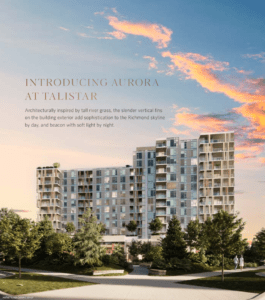 Aurora at Talistar by Polygon – Talistar is a striking master-planned community of six residential buildings in Richmond's city center, offering a new way of living in a delightfully connected setting. Aurora…
Read More