Core By Westland,10294 City Parkway, Surrey, BC
10294 City Parkway, Surrey, BC
CORE is the best investment in the developing Surrey City Center. With the best location in Surrey, homeowners will live seconds away from Surrey Central Skytrain. This 50-storey residential tower with an eight-storey AAA commercial podium will be the new Downtown core. Others claim this, we own it.
Developer: Westland Living
Project Name: Core
Address: 10294 City Parkway, Surrey, BC
Google Map: https://goo.gl/maps/LokxZ2qNv5BnLMJVA
Architect: Chris Dikeakos Architects Inc.
Type: Condo, high-rise multi-use development
Material: Concrete
Estimated Completion: Summer 2027
Floor: 50
Number of Units: 429
Studio, 1, 2 and 3 bedroom homes
Size: Range from 331 to 892 square feet
Ceiling Height: 9′ to 10′
Amenities: Gym, common areas, meeting rooms, shared offices and an outdoor space
150,000 of AAA commercial space
Sale starts: Coming Soon 2022
Article about the project: https://www.livabl.com/2022/10/core-by-westland-surrey.html
Website: https://www.surreycore.com/
Contact us on the form below for Floorplan, Deposit Structure, Pricing & other project info!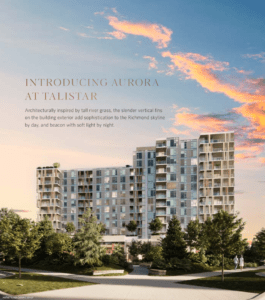 Aurora at Talistar by Polygon – Talistar is a striking master-planned community of six residential buildings in Richmond's city center, offering a new way of living in a delightfully connected setting. Aurora…
Read More