CONTOUR METROTOWN BY SVM HOMES
4330 Maywood Street, Burnaby, BC
Thank you for your interest in Contour, Metrotown's most stunning masterpiece. Built by reputable Kirpal Group and SVM Homes, Contour is the newest collection of 1, 2, and 3-bedroom high rise residences meticulously designed to make every home feel like a corner. 
The proposal envisions 91 condominiums, with a unit mix of 33 one-bedroom units, 40 two-bedroom units, and 18 three-bedroom units.
The remaining 29 homes will be rental homes, with a unit mix of two studios, 18 one-bedroom units, and nine two-bedroom units.
Residents will have access to a total of 4,500 sq. ft. of indoor amenity space, including a fifth-level multipurpose room for rental tenants and a multi-purpose room on the 21st floor for strata.
Ground-level retail and restaurant units totaling over 13,000 sq. ft. of commercial space will help activate the southwest corner of the intersection of Maywood Street and Silver Street.
Developer: SVM Developments, Kirpal Group
91 Units
24 Level
Architect: GBL Architects
Concrete Constructions
Contact us on the form below for Early VIP Access, Floorplan, Deposit Structure, Pricing & detailed info!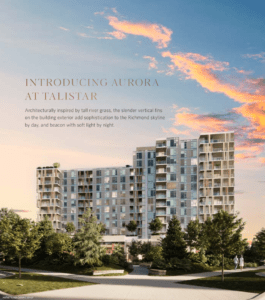 Aurora at Talistar by Polygon – Talistar is a striking master-planned community of six residential buildings in Richmond's city center, offering a new way of living in a delightfully connected setting. Aurora…
Read More