CITIZEN By Anthem, Metrotown Burnaby
4663 Kingsway, Burnaby, BC
Above All Else – 66 Storeys of Greatness – CITIZEN By Anthem
Leading the dynamic evolution of Metrotown with Station Square, The Standard and NUVO, Anthem is proud to introduce Metrotown's latest presales condo.
Located in the core of Metrotown across from Station Square, Citizen By Anthem will rise an impressive 66 storeys, and its stature and striking architecture will become an iconic part of Metrotown's skyline. This highly anticipated, integrated community offers a mix of sky residences, rental homes, dynamic retail, and AAA office space, designed as a major hub of metropolitan activity.
Life at the Top
Situated level 32 and up, Citizen By Anthem's sky residences offer a one-of-a-kind living experience atop BC's tallest residential building. Enjoy stratospheric views, impeccable design and experiential living, in Metro Vancouver's most highly anticipated address, coming this spring.
Citizen is a vibrant and cosmopolitan city destination in Burnaby's most central locale, offering living, working and entertainment experiences all within a tower.
At an impressive 66 storeys, Citizen will stand proud as one of Metrotown's tallest towers, offering a mix of residential, rental, office and retail uses. The tower is comprised of 372 market condos and townhomes, 200 market rental and 73 affordable rental homes, 40,000 sf of indoor and outdoor amenities and over 150,000 sf of retail and office space above six levels of underground parking. Citizen will be abuzz with urban energy while maintaining a sense human comfort for its residents. The name and design, Citizen (City • Zen), honours this Yin and Yang experience. The exterior of the building features a black and white colour palette, with interior biophilic accents to bring a natural element to the urban, concrete tower.
Citizen's market residential condos start on the 32nd floor and include a mix of efficient studio to three-bedroom floorplans with sweeping views of the Burnaby skyline. The affordable and market rental portions focus on durability, maintenance and economy, with a mix of studio to three-bedroom homes. Citizen's ground level retail experience will animate the tower and bring an amenity to its residents and office workers. The spacious, double height ceiling heights and prime location off Kingsway are ideal for restaurant and quick service commercial uses such as a coffee shop.
Developer: Anthem Properties
Project Name: CITIZEN
Address: 4663 Kingsway, Burnaby, BC
Architects: CDA Architects
Estimated Completion: Late 2028 – Early 2029
Status: Presales Condo
Number of floors: 66
SkyHome Residences Level 32 and Up
Number of Homes: 372
Material: Concrete
Market Condos + Rental + Retail + AAA Office
Over 40,000 sf of Amenities
Podium Level Office
Restaurant & Cafe
Deposit Structures: 5% (Contract), 5% (2024), 5% (2025), 5%(2026)
Parking included in all homes except studios
Storage Locker: Included (Limited time)
Estimated Strata Fee $0.64psf
Available Home: Studio, 1 Bed, 2 Bed+ Den, 3 Bed
Availability: 2023
Website: https://citizenbyanthem.com/
Contact us on the form below for Floorplan, Deposit Structure, Pricing & other project info!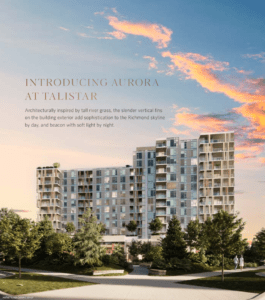 Aurora at Talistar by Polygon – Talistar is a striking master-planned community of six residential buildings in Richmond's city center, offering a new way of living in a delightfully connected setting. Aurora…
Read More