ARDEA AT RIVER DISTRICT BY WESGROUP
3202 Riverwalk Avenue, Vancouver, BC
Ardea presents the first opportunity to own Wesgroup's newest waterfront and park side homes in River District, Vancouver. Located in a quieter area of the master-planned community, Ardea has the serenity of being on the riverfront, but is still walking distance to bustling Town Centre. With picturesque scenery in all directions, each building has been thoughtfully arranged so that homes frame beautiful views of the river, park, or River District community. The standalone amenity building will include a spa-like hot tub and cold plunge pool with a steam and sauna room, a dining and kitchen lounge, and a gym and yoga studio.
A DYNAMIC VANCOUVER COMMUNITY.
River District has been in the making for over 10 years, and it is shaping into one of Vancouver's most diverse waterfront neighbourhoods. Through a network of trails, connect to a vibrant urban centre, sprawling parks, and a future community centre and daycare. Everyday conveniences, favourite restaurants, and a variety of shops are within walking distance from home. With 25 acres of parkland and 1.5 kilometres of riverfront paths only steps away, nature is a constant companion as you experience life at Ardea.
Developer: Wesgroup
Project: ARDEA
204 Homes
One, Two, Three Bedrooms
Estimated Completion 2026
Contact us on the form below for Early VIP Access, Floorplan, Deposit Structure, Pricing & detailed info!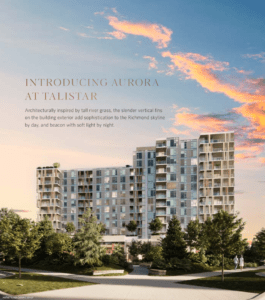 Aurora at Talistar by Polygon – Talistar is a striking master-planned community of six residential buildings in Richmond's city center, offering a new way of living in a delightfully connected setting. Aurora…
Read More